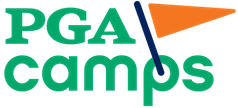 Morningstar Golf Club is pleased to partner with the PGA of America to provide a great summer junior golf camp experience. Each session is Monday through Thursday from 9:00 to 12:00. For more information visit PGA Junior Golf Camps.
Session 1 – June 5-8
Session 2 – June 19-22
Session 3 – July 10-13
Session 4 – July 24-27
Session 5 – August 7-10
9:00-NOON
Ages 8 and Up
All instruction is given by Steve Seibel who is the PGA Golf Professional at Morningstar and also the former Head Golf Coach for Warren Central High School and the Warren Township Middle Schools. The fundamentals of the golf swing will be taught, and the emphasis will be on actual supervised playing on the course.  Instruction in the art of the short game and putting will be included.  Rules of golf and golf etiquette are also a part of camp instruction.  Campers will have fun learning and perfecting their game while getting the opportunity to play the course with other campers.  In all, the campers will receive 12 hours of instruction and complimentary gifts through the PGA including balls.
Fees
$250.00 This includes green fees and practice range balls.
You may call us at 317-899-4653 if you have any questions, and registration is easily done online at the link below.